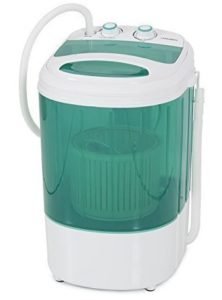 Now when it comes to finding cheap washing machines under $200 dollars, if you know where to look, there are a lot a units that fall under this price range that are great choices. At this price point, these portable units are great if you live somewhere where there is not a lot of space.
These small washers are just what you need if you are in this situation. Here, we bring to you some of the top rated units that your money can buy. Now don't be fooled by the size of these machines because they can get your clothing just as good as larger more traditional units. These choices are based on the best selling that are on the market today.
Panda Compact Washing Machine
If you are looking for an alternative to a traditional washer because you don't have the space, then the Panda Small Compact Portable Washing Machine just might be the solution to your problem.
With this unit, you don't have to worry about going to the local Laundromat because you can now wash your clothing in your home. This model features a spin cycle so that you can dry your clothing and it even has a built in pump which makes it easy to drain the water. The capacity is 10 lbs and it comes in with over 100 reviews and is a best seller.
Arksen Portable Washing Machine
Another great choice if you are dealing with tight spaces is the Arksen Portable Mini Small Washing Machine. This model has been called the perfect solution to small environments.
This one features an 11 lb capacity which is large for its class. It also has a spin cycle for the washer and a spin cycle for the dryer. There is a clear lid so that you can see the water conditions and there is a built in pump for draining.
Giantex Mini Washing Machine
Next up on the lists of one of the best that you can find within this price range and it goes by the name of the Giantex Portable Mini Compact Twin Tub Washing Machine. This model is another popular machine and it even has a spin dry cycle.
It also features an 11 lb capacity with a spinner power of 300 watts. This twin tub unit is a great choice for small spaces because you can easily just place it on your countertop for convenience.
Bismi Compact Washing Machine
A portable washer that is great for dorms, apartments or camping can be found in the Bismi Mini Portable Washing Machine. This unit is a solid performer according to various customer reviews that gave it a high rating.
It features a 6.6 lb capacity with a spin dry cycle. It is a redesign of a previous model and it is very lightweight. You can wash shirts, pants, towels and more. The wash and dry cycles can last up to 15 minutes with a control timer.
Arksen Portable Washing Machine
Last one on this list but also one of the top best is the Arksen Portable Mini Washing Machine. This model is super easy to use and be a great addition to a small space or countertop.
It features a 8.8 lb load capacity and with a dual function it also has a dry cycle. There is a basket that helps with removing unwanted water. It is made with a clear design so that you can see and check in on the water condition. It is excellent for apartments, condos and RV's.
[azon_profit_poster best-selling-portable-mini-washing-machines]